Roses have been the traditional gift given on Valentine's, Birthday, Love and Mother's Day since the dawn of time. Our gorgeous "

Galaxy Roses

" are among the most popular and the most sold flowers throughout this year.
2019 Gift of the Year
Handmade with Love
Unique Gift for Any Occasion
The richness of the roses colors will amaze everyone, and if you want a vibrant rainbow of colors, these roses are the perfect deal...! They arrive beautifully packaged and ready to go! Each lovely rose is delicately handmade of iridescent leaves and designed to last forever.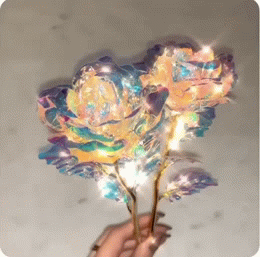 The Eternal Galaxy Rose, Never corrode and never Wither, fade or deform, which represents your love to your significant person. We hope that you can enjoy the colorful luster of this simulated rose at different angles or lights!
Roses has always been a symbol of beauty, love and appreciation, they can help you show your eternal love for her or him, let them know that your relationship will never follow time to dissipate...
So express your love with the one of a kind Galaxy Rose. There's no better way to say I Love You than with a rose, the ultimate sign of love universally! The Galaxy Rose is perfect for Anniversaries, Weddings, Birthdays, or any occasion that warrants such a unique and precious gift! Comes beautifully packaged in a decorative box making gift-giving easy. 
Includes Gift Box

Individually Handcrafted 

Size: 11 inches tall (approx.)
Description

Roses have been the traditional gift given on Valentine's, Birthday, Love and Mother's Day since the dawn of time. Our gorgeous "

Galaxy Roses

" are among the most popular and the most sold flowers throughout this year.

2019 Gift of the Year
Handmade with Love
Unique Gift for Any Occasion

The richness of the roses colors will amaze everyone, and if you want a vibrant rainbow of colors, these roses are the perfect deal...! They arrive beautifully packaged and ready to go! Each lovely rose is delicately handmade of iridescent leaves and designed to last forever.

The Eternal Galaxy Rose, Never corrode and never Wither, fade or deform, which represents your love to your significant person. We hope that you can enjoy the colorful luster of this simulated rose at different angles or lights!

Roses has always been a symbol of beauty, love and appreciation, they can help you show your eternal love for her or him, let them know that your relationship will never follow time to dissipate...

So express your love with the one of a kind Galaxy Rose. There's no better way to say I Love You than with a rose, the ultimate sign of love universally! The Galaxy Rose is perfect for Anniversaries, Weddings, Birthdays, or any occasion that warrants such a unique and precious gift! Comes beautifully packaged in a decorative box making gift-giving easy. 

Includes Gift Box

Individually Handcrafted 

Size: 11 inches tall (approx.)